Pendulum clocks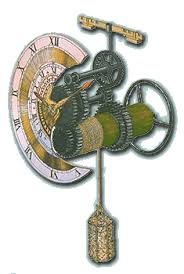 The next one, The pendulum clock was an important achievement in clock technology, constructed in 1656 r. by a Dutch scientist, Christiana Huygensa (1629—1695).
It was a completely new type of timepiece, characterized by high accuracy. The pendulum swings evenly, causing the wheels of the mechanism to rotate evenly. However, the clock is very demanding. The frequency of swing depends on the length of the pendulum. So that the clock is not late or in a hurry, the length of the pendulum must be perfectly set. Huygens invented too (w 1675 r.) balance with a spiral - the natural adjuster of the mechanism wheels, performing a role similar to a pendulum.
Today it's just a wheel with an axle. Axle ends, or "tenons", rotate in bearings, made of a special hard material, usually a ruby. They are the so-called. "feeding". They minimize friction in the bearings, ensuring clocks with considerable regularity of work. The balance with the spiral was therefore an important invention.