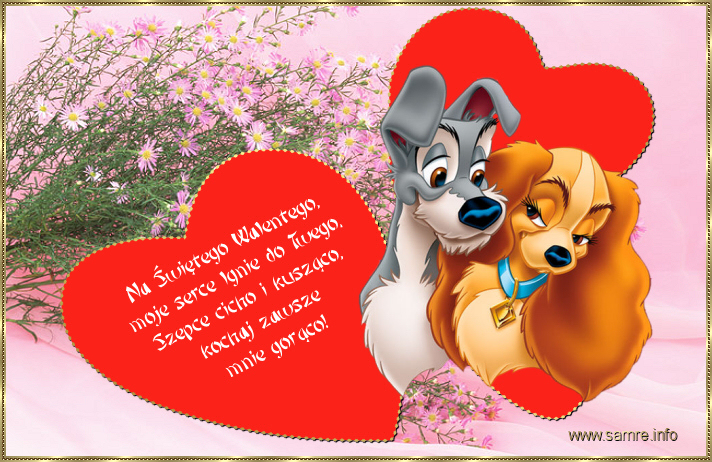 Valentine's Day poems are most often placed on Valentine's cards, we send with a love text, more and more often we put a card with a poem in valentine flowers. The poems for Valentine's Day are the most often rhymed, short texts, which in a nice way, enjoyable, and sometimes humorous, they represent love afflictions. Sometimes they even become a love confession. People most often use poems, who are shy and cannot express their feelings on their own. What Valentine's Day poems we know and can send to the other person?
On the one hand, we have wierszyki romantyczne, which are nice to every recipient:
All the sunshine is for you,
A sky full of stars for you,
All my dreams for you,
For me, dear, only you!
Once upon a time, love was alien to me,
Not nice, invisible
Ever since I saw you,
I fell in love right away!
Someone loves you very much,
I won't tell you who
and thinks of you,
I won't tell you what.
But your heart will tell you
per day, for two,
that the one who loves you is me.
Will you please,
to tell you
in a nutshell and in silence,
that I will give you back and open it
in silence, heart
shining in the torrents
words two, carried away by sleep
hidden by the night
captured by time
words two, which sound like singing
two simple words
I LOVE YOU
I love roses, clouds,
I love the wide world,
I love the stars in the sky,
And I love you the most!
We also have rhymes, które są raczej nice wishes on St.. Valentine:
On St. Valentine's Day
I am sending to your heart
100 truskawkowych hearts,
1000 plush hearts,
golden sun ray,
endless kisses!
He sends you these wishes
Certainly nice Valentine.
On such a beautiful and glorious day,
I wish you with all my heart
A lot of luck, passions
endless love!
There are poems too, which they reveal and expose the real desperation of people, which choose thema:
I love you baby!
I love your body!
I love your every kiss!
I love your every touch!
It's more than "I love you"!
I can't imagine my life without you, never leave me!!!
As can be seen, there are a lot of interesting, funny or simply romantic rhymes, which will surely add variety to Valentine's Day.