Planning a magical honeymoon.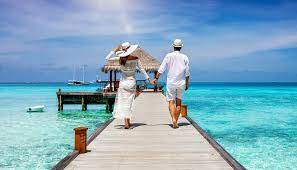 The function of a honeymoon is to celebrate the marriage in a pleasant environment. Young people can then relax after months of stress related to the organization of the wedding, and also gain fresh strength to return to the new one with new energy, common everyday life.
Where can we go on a honeymoon?
There are really many proposals - everything really depends on our expectations, budgets, and also time, which we can spend on a joint trip. Although it is usually referred to as the "honeymoon", we can rarely find as much as a month for holiday trips. Usually, the honeymoon trip lasts from seven to fourteen days. Here are some suggestions for honeymoon trips:
If we have a limited number of days off, we can decide on a nearby trip (e.g.. in the Polish mountains or the sea), to rest there in the elegant surroundings of the hotel and beautiful landscapes. We can enjoy spa treatments there, go for walks and just enjoy yourself.
Another idea for a short trip is to choose a plane trip to one of the European capitals. A few days' sightseeing in Paris or Venice - cities of love or London or Vienna will surely leave great memories.
If we prefer to spend time surrounded by beautiful nature and we want to rest away from people, we can go to small coastal towns in Italy or Croatia. It is better to avoid tourist centers then, because we can get lost there among the colorful crowd of other tourists.
For the bride and groom, who like adventures, It may be a great idea to actively spend your honeymoon, e.g.. during alpine trekking. For people with a larger budget, a very good idea may be a trip to an African safari or discovering the secrets of the Inca during a trip to South America.
Many newlyweds, however, dream of simply relaxing in comfortable conditions, which is why she often chooses elegant, five-star hotels in Egypt or Tunisia. Apart from wonderful sun and perfect food, There are many attractions waiting there, such as camel rides, or the possibility of diving among coral reefs.
It happens sometimes, that the bride and groom do not decide to go on a honeymoon for financial reasons. This trip, however, will give us a bit of respite for two and will emphasize the uniqueness of the wedding - therefore it is worth choosing even a short and inexpensive trip. Whether, what honeymoon we choose - will it be an expensive foreign trip, or a weekend trip out of town, let's make sure it is a relaxing and comfortable trip. Then we have a unique opportunity, to enjoy yourself for the first time - as husband and wife.