Surprising wedding menu
Probably many of us have heard the conversations of aunts and uncles about organizing the wedding of someone from the family. They comment on all the elements of the wedding ceremony and reception, and their favorite topic is the wedding menu. If it happened, that the meals were just average, the aforementioned commentators will not leave a dry thread at the wedding. "Za mało mięsa na stołach", "Second freshness cakes", "Small selection of drinks" and many other opinions can be heard from their lips. If we are thinking about organizing our own wedding party and we want to avoid unfavorable opinions and critical comments from family and friends, we can consider or use culinary services in proven establishments, or (although these options are not mutually exclusive) also serve the guests something really special.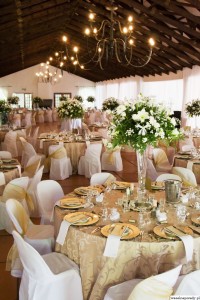 Traditional wedding menu (although of course it is highly dependent on the region of the country) usually puts on a broth, hearty entree with a large selection of meats and dessert (ice cream, musy itp.). During the further fun, guests can help themselves to snacks, the so-called. cold plate, followed by a hot dinner (it could be spaghetti, baked piglet and much more). At the end of the fun, around two or three o'clock, borscht with croquette is often served, as a meal for the most persistent guests. An obligatory element of the wedding menu is also a cake - it is usually served before the hot dinner. The listed set is the most basic - it depends on our imagination and the possibilities of the restaurant what we can offer our guests more interesting.
Instead of the usual broth, we can treat our guests with cream soups (e.g.. boletus and maybe broccoli with almonds?), and for the second course, serve them exquisite meat and fish, not necessarily a regular pork chop or a chicken leg. Deser również może powinien być zaskakujący – puree z malin na gorąco z pewnością zrobi większe wrażenie niż trzy gałki lodów waniliowych podane w pucharku z parasolką. In the case of a hot dinner, we can not only offer our guests a traditional piglet, but a whole set of peasant food (with different types of meats, pickled cucumbers, lard, cheese etc.). A great idea for enriching the wedding menu is also to organize a chocolate fountain, in which guests will be able to soak the fruit. Such a dessert is not only very effective and delicious, but it will also bring a lot of fun to the youngest guests. An interesting proposition can also be hiring a barista or bartender, which for a while (two or three hours) he will not only treat his guests with perfectly prepared drinks, but it will also surprise them with its craftsmanship.
We have to remember, that quality, type, the size of the portions and the number of meals served during the wedding party significantly affect the price. Wybierając pomiędzy różnymi zestawami potraw proponowanych przez lokale z pewnością zauważymy, that prices vary by up to several dozen (and more!) PLN per person. The wedding, however, is once in a lifetime - so maybe it's worth going crazy and surprise the guests not only with fun until the morning, but also great food?