EAST AND WEST CALENDARS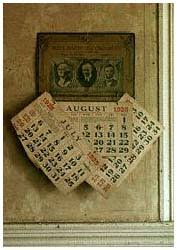 The calendar of time was compiled differently in different countries. However, everywhere - regardless of the civilization circle, and also time - the same problems occurred. Examples of this are China and the Mayan state, countries tens of thousands of kilometers away from us, separated by natural obstacles, then very difficult to go through.
And here and there the gods intervened. The sky was full of all kinds of spheres, filled with ghosts. Sun, Moon, fixed and wandering stars - were not only the counterparts of deities, but gods; they not only measured our earthly time, but also (as in our civilization circle) they decided about the lives and fate of people.
Mayans, who were grandmasters of mathematics and astronomy, they created a calendar based on the solar year. The Chinese based it on the lunar month. The Indians, on the other hand, surpassed even the Greeks: created several dozen different calendar systems !
Of course, the cultures of antiquity were not isolated. There are a lot of reasons, to guess, that there was a connection between Babylon and China, Nor should the hypothesis of the existence of Atlantis be rejected, being the "link" between the Egyptian and Mayan cultures. Anyway - many problems related to the count of time, each of these nations had to solve for himself.