New year – Wishes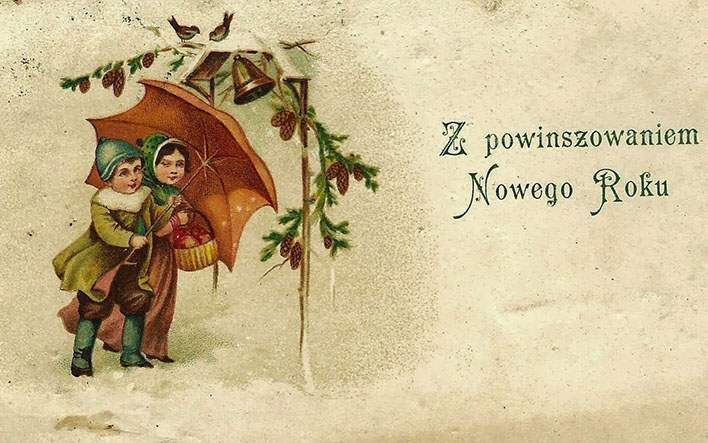 Każdy lubi otrzymywać ciekawe i oryginalne wishes for the New Year. However, not everyone can arrange them into a neat text on their own, which would deviate from the typical New Year's set of wishes. That is why we have collected the most interesting poems and wishes related to the New Year for you. Now you can choose your text, which best suits your mood and person, which you want to send it to.
Wysyłając New Year's wishes it is worth taking care of, to be original and unconventional. For this purpose, you can use the collection we have created. You will find it both in humorous rhymes, as well as quite serious, but also completely unique wishes for the New Year, which you can use this year. It only depends on you, which one you choose.
The old year is over, the new year begins.
So, with a bottle of champagne, I wish you good wishes:
Don't let the joy pass you by,
let dreams come true,
let the smile accompany you,
quills clink in pockets
and let wisdom lead without stress,
from success to success.
New Year's Eve is just around the corner,
so start the fun right now.
The New Year is about to come,
so wishes must be sent,
and I wish you one today:
the most beautiful star from heaven.
She will illuminate your life
and warm, when the chill is around,
she will always show you the way,
will wink at you merrily.
I think so, that you at all
nothing more is needed to be happy,
so I wish you one today:
the most beautiful star from heaven.
May the New Year bring you
love, much joy and prosperity
and making your innermost dreams come true.
And when they all come true,
let him give you new ones,
because dreams are the salt of life.
Let him add some more
much success, implementation of professional plans
and health for all days
and will take care of your wallets always full.
When champagne corks pop out,
Have your best fun until dawn.
when fireworks will light up in the sky,
Welcome the New Year.
And when the celebration is over, the moments are over,
my wishes, remember me kindly.
Because there is no such thing in the world,
who would wish you so much good.
At home, at work, in friendship, in love,
may the happiness of the guests always.
Regiment! Regiment! who's knocking on the door?
The New Year is already looking for a place.
Open the door wide for him,
then look up at the sky.
The lights will shine there today
and the fun will be great.
Let everyone be happy together
the time has come for joy.
Let the champagnes open
and make their best wishes today.
Let them scream loudly: Until next year!
not sparing a dance step.
The end of the old year is the time for summaries,
however you don't focus on it it's gone,
and enjoy you, what the New Year can bring you.
Come into it joyfully, full of hope and good thoughts.
Let your loved ones surround you on this special day,
let them become an inexhaustible source of strength
for each New Day 2016 Year.
When everyone around is having their best,
You sit down with a glass of champagne
and think about all the moments of the passing year.
Keep the best ones in mind,
forget about the worst as soon as possible.
I wish you today, that you can
to experience the coming New Year
so, as you planned it.
Take full handfuls of it!
We are about to welcome the New Year,
fireworks, champagne, singing and dancing.
I wish, that you may in these joyful moments,
she was surrounded by a circle of friends and family.
Let joint joy and fun
accompanies not only
the beginning of the New Year,
but it will carry over to all his days.
Lots of love and happiness!
In the new year, I am sending you my best wishes
health, happiness, Good luck,
love at every turn,
let him give strength this year.
Let nature sprinkle with flowers
spring, and sunny summer.
Let autumn be sunny,
winter full of snow everywhere.
And I wish you fun time
a lot of strength, durability,
let the smile accompany you
and the nice guests themselves.
On this New Year, everyone sends
the most beautiful wishes in the world
and I send you from the bottom of my heart
warmest regards.
Let them have a good time
crowd of friends, always kind,
and your smile from ear to ear
let no one be surprised today.
Let you be healthy,
at every turn,
and prosperity does not leave v 2016 year!
Happy new year
Happy New Year!
Happy New 2016 Year!
Make your dreams come true in a year 2016!
To make the New Year better than the previous one!
New year
Few people know these days, with how many customs was New Year's Day. Unfortunately, in the 21st century, we often forget about tradition and many wonderful rituals. The date of the holiday has changed several times in the history of Poland, and the first of January was recognized as the beginning of the New Year only in 1630 r.
The most characteristic of the celebration of the New Year's holiday was making wishes. It was believed, that they will come true if they are honest. Until modern times, in some regions of the country, the custom of visiting neighbors with New Year's wishes has been preserved. In the past, they were assembled in colorful disguises. The children got genera, that is, specially baked rolls made of wheat flour. In the twentieth century, in some regions of Poland bachelors would greet with wishes in characteristic straw hats decorated with blackthorn branches. They were usually bestowed with oats for good wishes. The New Year had to be preceded by the expulsion of the old one. For this purpose, tin cans were called, lashes were fired and metal sheets were hit. The priest also made wishes during the New Year's midnight mass. Neighbors, friends and family often wished each other happiness in a playful way, for example by coming up with funny nursery rhymes, poems or even songs.
Due to this, that the New Year was treated as a magical holiday, it was associated with numerous fortune telling. It was common to take other people's things, because it brought happiness. The stolen property could not be bought until the next day, and with the money obtained, New Year's feasts were organized. Persons, who wanted to get rich in the coming year threw coins into the purse and ran around the fields. It was also believed, that the events of the first day of January bode for the whole coming year.
The New Year could not come without expelling the Old. For this purpose, metal sheets were struck, the whip was cracked and the metal cans made noise. Nowadays, the New Year's toast is raised with champagne, in the past, Hungarian was used for this purpose.