Wedding guitarist - what equipment does he need?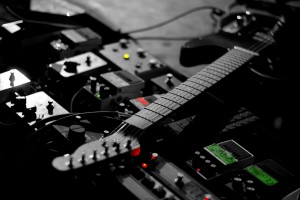 This article opens a series of guides for wedding guitarists. I will try to discuss in it generally what equipment we will need, to be able to play a party. I will provide detailed information in the following parts. If you've read my previous lyrics about starting a band, you've probably noticed, that I put emphasis on separating live performance from backing tracks. It seems like it, that most of my articles will include this item, both of these situations often require different hardware, different people, different skills. The same is the case with the guitarist and his "stuff". I invite you to read.
The most important thing is the instrument
So, I know- I did not discover America. The point is, that having only the guitar, we will not play too much with a live line-up, because everything will be missing in its wording, what is expected of such playing. We can deal with the instrument itself, however, if we only 'support' the backing or play completely with playback. Then we attach to the mixer and add something to it. There will be no madness, but if we are going to be the background, this is the chance, that we will not be booed.
No matter how we play, the instrument should be our first purchase. When choosing it and collecting cash, no other part of the set should matter to us. If we have 2 thousands of zlotys and we want to buy all the necessary things ... we will not buy anything but a guitar. If we have 3 thousands, I also recommend that you allocate them entirely to 'oar'. 4 thousands? I would buy a guitar too. "It simply came to our notice then? After all, Allegro has great professional sets for PLN 299. Even a DVD game course ". These sets are shit worth it. It's like that, as if by 10 hours he worked using an angle grinder too 50 PLN. Recently, I have been cutting some metal elements with such a device. The rubber band burned after 30 minutes. Someone will say, that for 3 thousands can buy both a guitar and a stove. Yes, it can and certainly will not be scrap, especially if the equipment is bought used. The more expensive the guitar is, the less we will probably have to complain about. This is not a rule, because quality does not always go hand in hand with price, but in most cases it is. A professional instrument will not distract you, it will tune on the frets, will be comfortable to play and most importantly- will sound great, which will also do, that we will enjoy playing. We do not have to change such equipment for many years. We just need to take care of him.
Amplifier or multi-effects?
The first situation, which we will consider is a live line-up. In this case, any natural sound is an advantage, so the guitarist, live players should equip themselves with equipment, which in principle he could use on a full sized stage. If the band as a whole is to sound professional, there must be no weak links. Either a guitar combo will be needed (on two 12 inch speakers) or a guitar head and a two or four-speaker cabinet. Yes, I know, will be used 5% power, but it is about open, full, analog sound. You should also add either a multi-effects or a set of effect cubes to the set. Cubes, e.g.. Bossa plus a tube amp is a truly masterful combination. Unfortunately, the cost will be considerable ... A good multi-effects will also provide us with great sound, and ready-made presets switched with microswitches will make it much easier for us to change colors.
Situation two, that is, foundations and plays. I have already redone various options and I strongly advise against dragging packages and amplifiers with me. It might seem, that it will be very nice to enrich the backing tracks with the natural sound of the guitar. It turns out, that, however, not entirely. Undercoats are chosen, among other things, for this reason, that they have consistent, bloated sound. After all, they were mixed beforehand. If we place the guitar amplifier somewhere in the back, any jerk of the string will disturb the coherence of the backing track. It's just that the sounds will stand out too much (guitar speaker sound characteristics and sound coming from one point in the room, and not from the main columns). There is also a risk, that the rest of the band won't hear anything but our equipment, because it is also used for listening. If we want to flatten our sound a bit, we can attach a microphone to our package or combo, e.g.. Shure SM57. The guitar will appear in the main speakers and will 'merge' with the backing to some extent, but our 'listening' can still disturb the musicians. What is the best solution? I think multi-effects. Such, which in addition to the line output (with column simulation) additionally has a headphone output. We will use them as a listening session. The multi-effects will provide us with a sound consistent with the background and a whole lot of different configurations. Person, which stands at the mixer, can make us louder or lowered a little at any time. It is also worth paying attention to the fact, that we take up less space on the stage, and the transport of our stuff is less tiring.
other elements
Good, we already have the basis. We chose lumber appropriate to the situation and in accordance with our preferences. Now it's time for the list of things, which we should also be interested in:
– Cable jack->6.3mm jack length 5 meters. First, it must be very durable, and secondly, it must transmit the signal losslessly and isolate it from external interference. If there is any effect on the floor, we must have two such cables- logic. Really, there is no need to save. When I saved some money on the cable, it turned out, the maximum gain level on the distortion channel in my stove has dropped by half, not to mention the squeaks and noises.
– Tripod na nasz instrument. It is not an expensive item, but very handy. After each dance block, Our guitar will land on such a stand. No way, to lean it against an unstable element of the stage or against a wall. If it slips and flies, we may have a problem.
– Case. Wydatek koło 100 zlotys. That's enough, that the cover has a reasonable thickness and useful pockets. Don't look at the thin ones, 'Foil' packaging(often added as freebies to great sets for PLN 99)- keeping your gear in them is like carrying it outside.
– Strings. Po pierwsze sensowne struny nałożone już na gitarę. Second, a spare set. There are different cases, sometimes even a new string can break. It may make it a bit difficult for us to get to the end of the event. It is not a problem as we have a fixed or unilaterally blocked sternum. The real problem will emerge in a moment, when our guitar is equipped with a double-sided Floyd Rose bridge with strings attached to special trolleys. Like the thickest string, the tension of the springs will change, which in turn will lower the bridge, and that will change the measure and out-tune all the strings in the process. The mere replacement of such a string will certainly take us a while ... if we have a set of appropriate tools with us at all.
– Cubes. Nawet tak mała rzecz jak piórko gitarowe może wpłynąć na jakość naszej pracy. The thickness of the ankles is actually an individual matter, but I would personally recommend a few different thicknesses (depending on the nature of the piece, which we play). I mean more about that, to have some spare cubes. It's so easy to lose them. They are small, thin, and it is quite dark around and there are little gaps everywhere, which attract the cubes like a magnet.
– Desktop for texts. Nawet jeżeli nie śpiewamy to myślę, that it is worth having all the material with prepared chords or marked more difficult elements. The lyrics stand itself is also a bit more expensive 100 zlotys. For this price, we get a stable and durable structure. It is also worth buying a small lamp, which will illuminate our texts.
– Strap. Tanie akcesorium, but we won't play standing without him. It is important to, to be wide (playing for many hours will be less tiring) and had tight holes for guitar lugs (then we are sure, that the instrument will not drop to the floor).
– Spare guitar. Jest bardzo przydatna dla ludzi, who don't want to fight a broken string or want to have a different sound in specific songs. Some people keep an extra guitar on a stand, because they want to look more professional.
Summary
The list of additional elements has become a bit longer, but I think, that these are not redundant elements. Thanks to them, no situation will surprise us. As for the main equipment, we will have to spend ... as much as we want. Bo jak się uprzemy to wyjdziemy na scenę z takim struclem, that we will leave traces of chipboard on the floor. It all depends on this, what we want to present ourselves, what are our requirements. But let's remember, that poor quality of equipment will also mean lower quality of music.