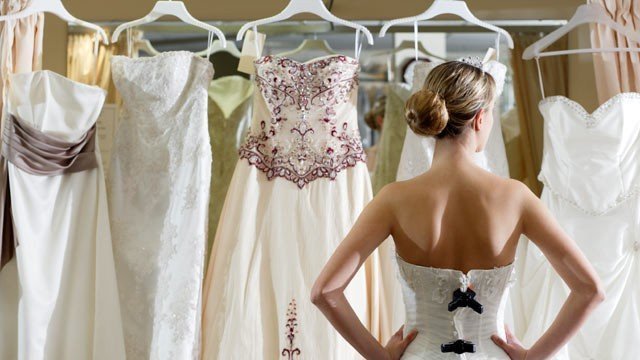 Fashionable or tasteful – a wedding stylist advises
Your wedding day is fast approaching, and you start to have a headache just thinking about choosing a dress. You wonder, whether to be fashionable or tasteful. Fortunately, the two terms are not mutually exclusive. And below are some rules, which should help you make the right choice.
Firstly, give up your ideas about your dream dress, you forged the lizards in childhood. Thanks to this, you will save yourself many disappointments. This is how it is, that fantasies rarely include facts, such as your skin tone or body type.
Secondly, pamiętaj by przy wyborze sukni uwzględnić Colour Twojej cery. Notice, that white has many shades – from pure blue to vanilla, cream to an ecru finish. The snow-white dress is reserved for brunettes and brown-haired girls with a dark complexion. Other ladies will look pale and unhealthy in her. Women with fair but warm complexion, blondes and redheads should choose dresses in warm shades. White for them is similar in color to vanilla or cream ice cream, it has a warm, like golden shade. The same color principle applies to accessories - earrings, necklaces, chains.
Kolejnym ważnym aspektem jest body type. If you are tall and thin, you can afford mermaid or Greek dresses, that is, those cut under the bust. You will look very dignified in them. The latter are also recommended for girls of slightly shorter height. This cut can, because add a few centimeters of height optically.
remember, that straight cut dresses, with train, decorated with a long veil, they make the silhouette slimmer and longer. If you don't have a model figure, you complain about too abundant hips, choose a slightly flared dress, the bottom of which resembles the letter A.. Such a cut will hide, a little something. You can also choose a dress with a corset, which will help you give your figure the shape of an hourglass. Corsets are also intended for all happy owners of large breasts. If you are complaining about a few extra pounds, avoid princess dresses with very extended hems. It is an offer for people with an impeccable figure. This cut shortens the silhouette, Therefore, it is strongly discouraged for short and slightly overweight ladies.
At the end, Remember, that the nature of the entire wedding stylization should also harmonize with your personality. It is extremely important, that you feel simply beautiful on this special day.