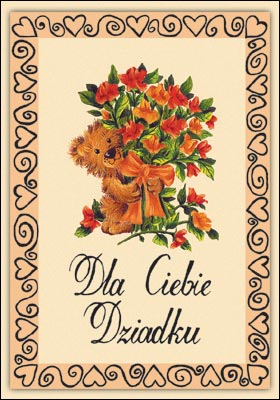 Beloved Grandfather's Day
Such a day comes once a year, that touches hearts, bringing the youngest and the oldest generation closer together - 22 stycznia – Dzień Dziadków.
Who among us does not remember, how much time did he spend playing together with his grandfather, how many hours he listened to his chilling stories or how many minutes he laughed at the funny faces, which he was playing in front of us? Dziadek – osoba wyjątkowa i bliska każdemu sercu.
22 January has recently been a special day, in which you can express your love and respect for your grandfather - pay tribute to him, which will move him deeply. How to do it? All you have to do is pay your grandpa a visit, podarować kwiaty lub inny gift, a najprościej rzecz biorąc – to just love and remember.
Pomysłów na wyjątkowy prezent jest wiele – można do something yourself (np. a cardor photo frame), you can also buy something in the store, bearing in mind, however, the interests and tastes of my grandfather: for a collector - an item enriching the collection, for a traveler - a travel ticket (preferably a double ticket, so that grandpa can take grandma with him), for a cold - a warm blanket, for an elegant man - cufflinks or a tie, for a hypochondriac - an electric blood pressure monitor, for the smoker - cyber cigarette, for a groom - the original newspaper, itd.
The gift can be delivered in person or sent by mail, however, one should not forget, aby dołączyć do niego greeting card - it is a very important element of the gift, because we give grandfather a part of ourselves through wishes, we put our feelings on paper. Nie każdy musi być zaraz poetą i tworzyć wymyślne poematy czy rhymes, a few simple sentences are enough, flowing straight from the heart. It will surely be a unique gift, which will give my grandfather great pleasure, a może i piękną a surprise.
Grandfather's day, podobnie jak Dzień Babci w Polsce obchodzony jest od niedawna, however, the tradition of honoring the elderly and making them feel at least once a year, how important they are to us, it is much older and is practically cultivated in all countries of the world. Most is known about the National Grandparents Day, celebrated for many years in the United States.